Accelerator

 

Frankfurt

 

Newsletter

 – October 2018
Accelerator

 

Frankfurt

 Launches New Wave
Proud to announce our next wave at Accelerator Frankfurt GmbH in our lovely new office space Mindspace.me. From Sweden we have Covr Security AB, a user-centric mobile security management platform; Investsuite from Belgium a B2B roboadvisor and a next-generation online investment platform; and from Finland Bankify Ltd a white-label digital banking services for the young segments. Are the banks still hungry for such innovations? Hell yes, and they're all making fast progress towards pilots.
Maria presented at HELTECH – Helsinki's meeting point for Tech enthusiasts 
At HELTECH in Helsinki Maria Pennanen took part on a panel discussion with Mikko Alasaarela on blockchain today, moderated by Egzon Delija. The topics varied from how blockchain will affect the banking industry to how regulation will affect the development of the blockchain industry. In response to a question "will blockchain substitute the current currencies and banks?" Maria quoted Bill Gates'  "we will need banking, not banks". We just need something we can store value. Mikko commented: "If you have a job in a bank, start looking for a new job."
What is the state of #blockchain? @PennanenMaria: the reality is catching up with a hippy teenager but this is a good thing because scarce resources bring real products to the #market #futureofblockchain #newtech #InternetofValue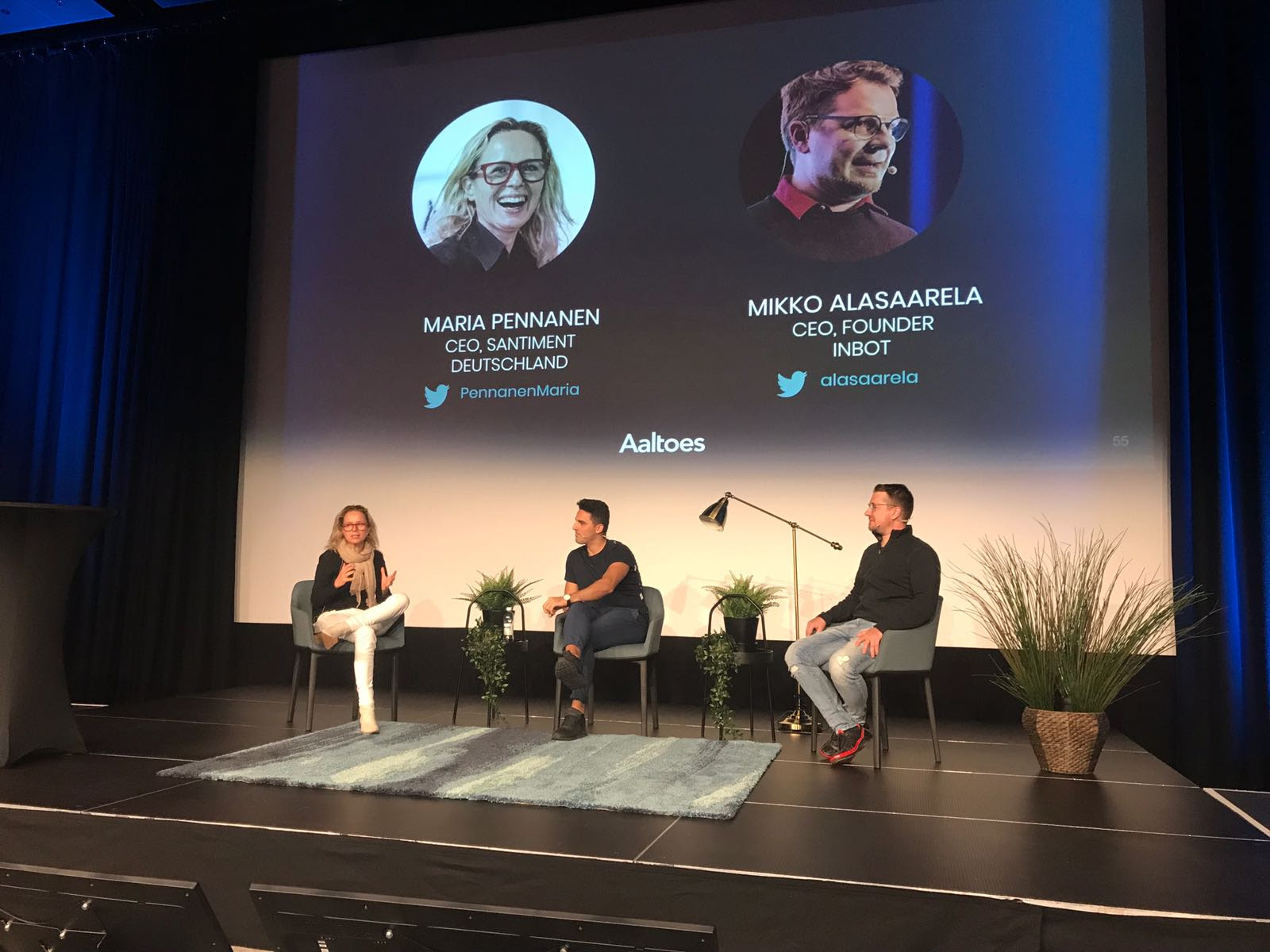 AI beyond the hype
by Maria Pennanen
ECB hosted an IT Forum staff event which focused on Artificial Intelligence (AI) and the potential implications of new technologies using #AI. Some two hundred Artificial Intelligence (AI) enthusiasts from national banks and ECB staff attended the conference in Frankfurt. The move from theory to practice was moderated by Ram Shoham the founder of Accelerator Frankfurt, the leading Fintech focused accelerator in Frankfurt. Two startups from Accelerator Frankfurt's portfolio companies, INNAAS a Fintech and The designerAI a Fashiontech, showed how they implement AI.


Easy access to structured information was demonstrated by Simone di Somma the founder of INNAAS. He validated this by showing the usual pain points companies have dealt with big data sets. INNAAS enables personal proactive feed of data with help of AI. Still today, dashboards are developed to showcase information that databases contain but very few people ever use them. The more user-friendly solution is the use of NLP (natural language progressing) with SQL queries to help users quickly access the information they are looking for. For banks and other corporations with large data sets, INNAAS solution has been a blessing.
The designersAI's vision is to create standardized data sets of images to enable fashion creation more efficiently without taking out creativity from the equation. A machine can see as well as a human but it is unable to interpret and perceive what it sees. A machine can only compare and identify the information it has been trained with. The fact that fashion is visual and very emotional, makes it difficult to systemise. The challenges for computer vision are the complexity of the human body, cross domain image matching and recognition. Additionally, one needs to be able to read cues from social media on what people prefer to wear. All this and more is where AI can be implemented to help make sense of it all. The most popular use cases for computer vision include similar product recommendation, ensemble recommendations, diverse styling options, search by image and fast-fashion trend analysis. The designerAI brings this added value to designers and retailers.
It always seems impossible until it is done -Nelson Mandela
To conclude, there are many positive use cases of AI in the fields of autonomous driving, medication, research and personalised data feeds. However, it can also be used to manipulate behaviour, to keep us in an information bubble and in the worst case to produce destructive weapons. The only way to influence it is to be part of it.
We want to thank ECB for inviting us to be a central part of this great event. Thank you!

Hypermotion, 20.-22.11.2018
This is where the future of mobility and logistics is made – together with you.
Experience an inspiring mix of an interactive fair, exciting conferences and the Hypermotion-Lab as an arena for start-ups, future innovators and established entrepreneurs.
Special offer for startups
Register now for startup pitches, co-working space and speed networking. Hypermotion is the ideal platform to show your concepts and to get in contact with companies and investors. More here
BLOCKCHAIN BUDAPEST | 8-9 NOVEMBER | Bálna, Budapest, HUNGARY

web: www.blockchainbudapest.com

The brightest minds of blockchain industry with Nick Szabo as keynote speaker, and of course, the representatives of most promising stablecoins (Augmint, Circle, Havven…).
Don't miss Hong Kong Fintech Week
Come with us: October 29 – November 2, Hong Kong – ShenzhenHong Kong FinTech Week is the world's first cross-border financial technology event, taking place in Hong Kong, Asia's financial capital, and in Shenzhen, China's Silicon Valley. It's one of the largest conferences on the calendar, attracting more than 8000 senior executives and featuring over 200 of the world's top FinTech founders, investors, regulators, and academics, who are shaping the future of financial services by driving a technological revolution in the industry across Asia and globally.
We will be presenting here.