Latest News
Photo credits Accelerator Frankfurt & Hazem Obid
Accelerator Frankfurt successfully completed its fifth wave. It is clear to see that the program is maturing. The three companies Bankify, COVR and Investsuite presented the progress they had made during the program. Our wildcards from 1st wave BeeEye and 4thwave Easy Send pitched for a full house of 150 investors and bankers on 5th of February. The high level of our companies was reconfirmed the next day at the pitching event from Finastra where Investsuite won the most bank platform friendly fintech followed by a shared second place by BeeEye, COVR and EasySend. Accelerator Frankfurt companies taking the first two spots is amazing.
Experience counts, it can be the difference between life and death
The demo-day started with a welcome speech by Ram Shoham, founder of Accelerator Frankfurt "Twice I almost drowned while surfing" was a powerful start for his speech, during which he emphasized the importance of experience. Only by trying and making mistakes you acquire skills necessary to succeed and reach your full potential. Surfing big waves without preparation is insanity, the same way as heading to a new market without the full understanding and the right partners. Accelerator Frankfurt offers young companies hands-on entry to the German market and to large corporates workshops to facilitate innovation and digitalization (how to become lean like a startup, how to create engagement in your team and how to develop user-centered ideas). We want to thank our strategic partners d-fine, die firma, Taylor Wessing and AtoBe in addition to Metzler Bank and our mentors who have made the program possible and helped our Fintechs build their businesses. The event was moderated by Dafna Gold Melchior who helped the startups refine their pitches before the demoday and kept the audience engaged throughout the evening.
The only way to succeed is not to fear failure
During the inspiring fireside chat with Steffen Seeger (Co-founder and former board member of Fidor Bank) and  Maria Pennanen (CEO, Santiment Deutschland and co-founder of Accelerator Frankfurt), Steffen shared the journey of Fidor Bank, who got the banking license 2006, one of the first digital banks in Europe. He joined Fidor after a successful 20 year career in consulting to realize his dream: "I had a dream, I wanted to build a bank!". And as an answer to why did he do it, he said he was not afraid to fail, he had already had a successful career and he could go back to it if things did not work out.  The story of Fidor is full of twists and turns, having a run-rate for just 4 weeks, which was saved by a French bank who bought them. Timing is everything but we learned that  "Banks are slow to change and difficult to collaborate with unlike other fintechs". If you are curious you can check the whole demo day on youtube, courtesy of startuprad.io that filmed the event.
Frankfurt is a great hub for fintech and blockchain companies
The next go-to-market wave starts in April 2019 and is open for applications online http://acceleratorfrankfurt.com/. Accelerator Frankfurt is an international program focused on helping companies scale. The program offers mentoring by successful serial entrepreneurs, coaching, office space and professional services. We accept web entrepreneurs past the idea stage and the potential to scale internationally. The program focuses on B2B companies mainly from FinTech, Blockchain and Cybersecurity. You can follow us on twitter @accelerator_ffm, like us on Facebook or contact per email ram@acceleratorfrankfurt.com.
Blockchain Summit Frankfurt
We are proud, to partner with Europe's Leading Blockchain for Business Event


Join 2,000 industry leaders, 80+ speakers and 50+ innovative exhibitors at Blockchain Summit Frankfurt taking place on the 26th March at Kap Europa, Frankfurt.
We are happy to invite our community to join us. Get your free ticket here.
Come meet us on stage in Tel Aviv. The event brings players from an array of global ecosystems to deliberate, share ideas and look at ways to collaborate, work together and do business – and get a bit of Tel Aviv sun!
Join us at WeTech Berlin
Our Maria Pennanen will speak at the WeTechBerlin event 18-19the of February. This is a great opportunity for investors and corporates to meet Israeli start-ups and to learn what is going on in the German Fintech scene. Hope to see you there! WeTech is held by Calcalist, Israel's leading business newspaper. For more information, click here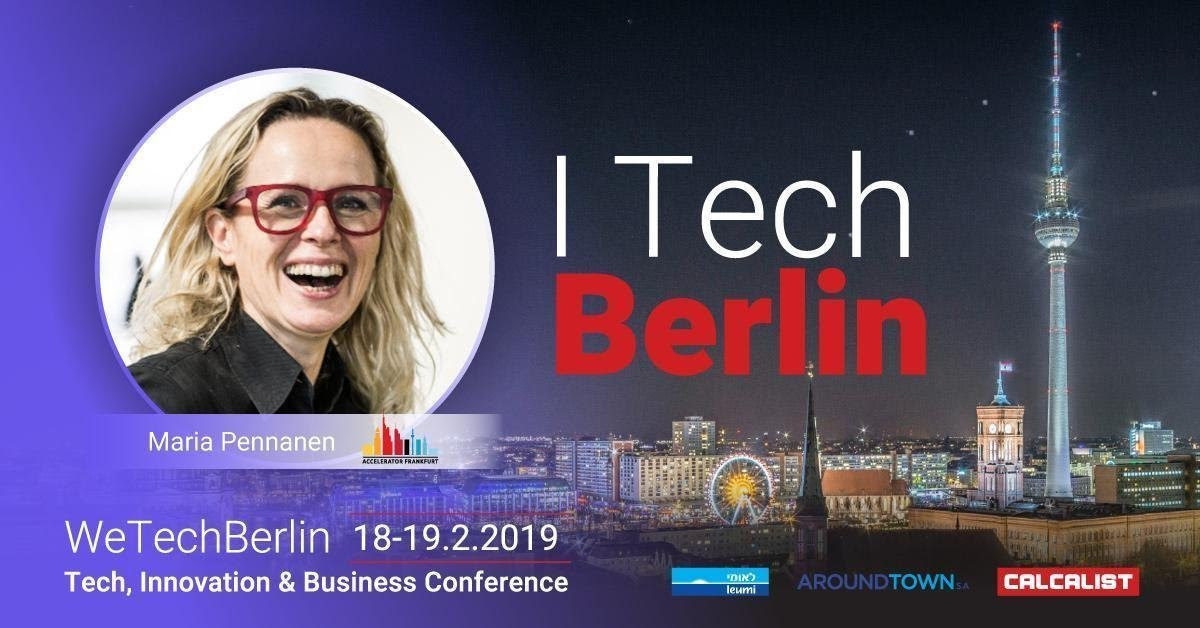 Israeli startups & entrepreneurs, gain access to business & funding opportunities into the German, Swiss & Austrian markets in Tel Aviv at the Europe Days 2019 conference. Full details & special prices tickets at: www.europedays.com