Accelerator Frankfurt – Blockchain Labs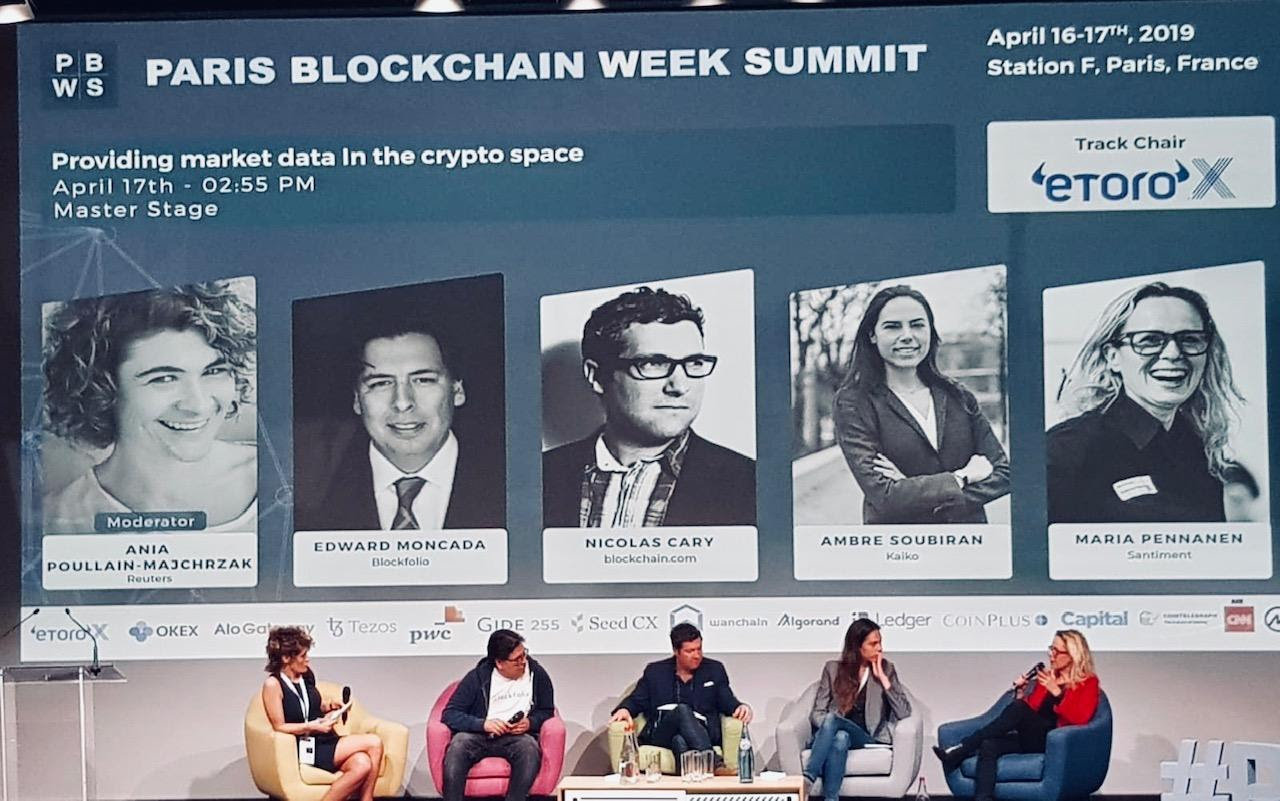 Paris Blockchain Summit, from Maria Pennanen's LinkedIn page

It was amazing to be in Paris for the first Paris Blockchain Week Summit. As Robert Wiecko from DASH put it "Something happened in 2008 and nothing has been done to fix it. This is the reason we are all here." Insightful discussion and great networking opportunity for anyone active in the #blockchain space. I had the pleasure to be part of the panel discussion on providing market data in #crypto space together with Nicolas Cary from Blockchain, Edward Moncada from Blockfolio and Ambre Soubiran from Kaiko moderated by Ania Poullain-Majchrzak from Reuters. Looking forward to see how the hot trends "#STOs, #stablecoins and #Decentralisation (#Finance and #Exchanges) will fare this year. Will this be the year of the breakthrough to the blockchain technology or we still need to wait? Certainly, there are capable projects who are working hard to bring real products solving real problems to the market. Once this happens the user adoption will follow.

Ram Shoham, Prof. Dr. Paul Alpar, Oskar Edelmann, Prof. Dr. Michael Stephan, Dr. Friedhelm Nonne, Dr. Thomas Spies und Angela Dorn (v. l.) bei der Eröffnung des MAFEX Start-up-Lab. Photo: Henrik IsenbergRam Shoham was invited to give a speech at the opening ceremony of MAFEX Start-up-Lab at the Philipps University of Marburg. The implementation of the incubator at the university is supported by the state of Hessen and the European Regional Development Fund (ERDF). Besides offering office spaces to the entrepreneurs, MAFEX provides workshops and individual coaching for their journey.With my motto "finding your perfect wave", Ram shared his personal story and his lessons learned along the way to becoming an entrepreneur.
Entrepreneurship Summer Camp for your children
The Accelerator Frankfurt Academy has as a goal to teach students (ages 14-18) to think like entrepreneurs. As entrepreneurs and parents, we see that the German education system is geared toward preparing students for the workforce. It does not adequately equip young people to start businesses, particularly high-growth start-ups.We have limited seats for the first twelve students who want to take part of this experience with us at Accelerator Frankfurt. We are offering a one week program on July 1-5. Seats are limited. Send me a direct email for more information or checkout our detailed program.
Banking meets FinTech, by Taylor Wessing
Was passiert, wenn Banken, Venture Capital und Technologie auf- einandertreffen? Welche Anknüpfungspunkte und Herausforderun- gen gibt es aktuell? Finden Sie es am 23. Mai 2019 heraus, wenn wir im Rahmen von Impulsstatements und einer Paneldiskussion den spannenden Ent- wicklungen in diesem Bereich nachgehen.
Auch zum anschließenden Networking-Empfang laden wir Sie herzlich ein. Melden Sie sich direkt über unsere Website an: http://bit.ly/TW2305
Wir freuen uns auf Ihre Teilnahme!
KPMG Israel Fintech Week
Israel has one of the largest and most vibrant global ecosystems of Fintech & InsurTech start-ups comprising more than 600 companies, with approximately 70 new Fintech start-ups appearing annually. In June 23-25, Accelerator Frankfurt will be convening for the KPMG 2019 Annual conference, B2B meetings and activities in Tel Aviv. Looking forward to seeing you there..
This goes out to the startups in Germany: We are partnering up with Deutsche Startup Monitor to gain an overview of the startup landscape in Germany. As it is important to collaborate and sharing views, we ask you to take part in the survey.