Our Co-Founder Maria Pennanen finished her book: "How to f*ck up your startup"!
Accelerator Frankfurt is very proud to announce that our Co-Founder Maria Pennanen finally, after more than a year of hard work, finished her book "How to f*ck up your startup".
It will be available on Amazon starting 15th of December, so stay tuned!
While writing her book, Maria got to think about what she really, really wanted to do next. While working with many entrepreneurs and companies, she has witnessed her fair share of disfunctional ones which made her understand the importance of good communication and well functioning diverse teams. That is why her startups, Mindclip Behaviour, was born to help us understand each other and changing it to the better one micro-habit at a time by using an interactive digital tool. Pre-order here.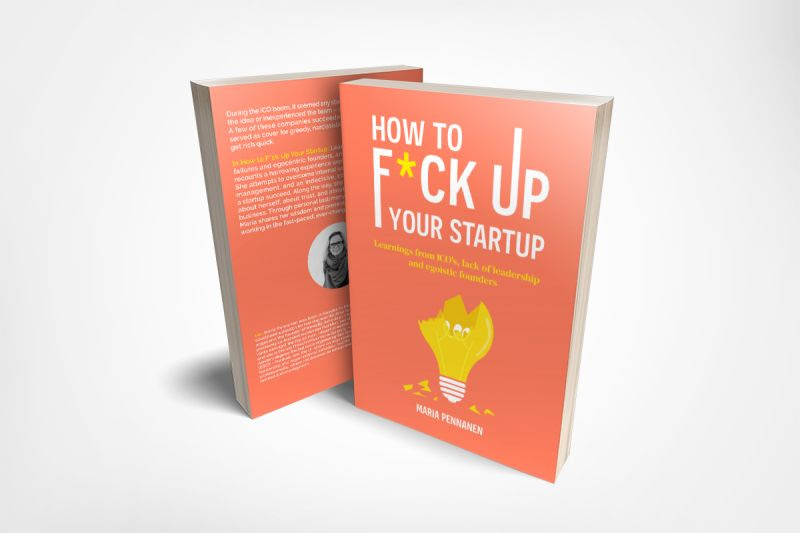 Valega Chain Analytics is mentioned in Forbes! 
Our wave7 startup, Valega Chain Analytics, is mentioned in Forbes. They are working closely with the Finnish police on the Vastaamo Ransomware case, which shook the country after hackers threatened to release psychotherapy records of private individuals unless they paid a ransom. As the Helsinki Times describes it, the case could turn into the largest criminal case in Finnish history! We are therefore very proud and affected by the work of Valega Chain Analytics in this context.

AcceleratorFrankfurt is honoured to announce our partnership with Radical Exchange.
Recently, RadicalxChange Foundation, a nonprofit organization for next-generation political economies, announced the first cohort of their fellowship program starting in January. The RadicalxChange fellowship is a 10-week mission-driven program that brings together a unique mix of people from all kinds of endeavours, such as activism, entrepreneurship, investing, policymaking, research, and technology to strengthen civil society and rethink public goods.
Maria will join this radical adventure as a mentor for the fellows. You can find out more about the fellowship here, and make sure you send in your application by December 13.
Frankfurt Digital Finance 
After its successful launch at the beginning of this year Frankfurt Digital Finance is set to become a regular must-go-to event with its second edition scheduled for February 3, 2021 as a hybrid conference. According to the event organizers, Corinna Egerer and Max Hunzinger, their aim is to strengthen Frankfurt as a leading digital financial hub by delivering knowledge and networking, and by fostering dialogue and co-operation between the realms of business, finance, policy making, regulation, and academia. As a platform to connect Frankfurt Digital Finance matches disruptive entrepreneurs with the right investors, corporates and partners to scale faster, and help established financial services providers to digitize and generate growth. www.frankfurt-digital-finance.de
We believe that change in business can only happen with passionate people. We attract those people and help them grow.